NEWS:
Funeral Arrangements Announced
Friends mourn Macon blues legend Eddie Kirkland
By JOE KOVAC JR.
That Eddie Kirkland, a one-man traveling jukebox of old-school blues famous for his on-stage somersaults, died at age 87 on a Florida highway Sunday wasn't so surprising.
The man lived on the road, spreading his guitar-wrought gospel from Detroit to the Deep South for well over half a century.
The Jamaican-born Kirkland, who moved to Macon in 1951 and had lived here since, was killed Sunday morning when his car pulled in front of a Greyhound bus north of Tampa, Fla.
He'd played a sold-out, Saturday-night gig near Clearwater and, after likely napping in his car "where he was most comfortable," was heading home, his Maine-based manager said.
Kirkland, a prolific songwriter, was fond of saying, "You might give out, but don't give up."
"He loved to say that," manager Hedy Langdon said Monday. "And here he was still on the road. He was conquering this business one show at a time. ... He always traveled alone. He believed in driving himself."
In more ways than one.
Kirkland's career, which began when he left the South for Indiana in the mid-1930s as a 12-year-old guitarist with the "Sugar Girls Medicine Show," spans parts of nine decades. He played alongside John Lee Hooker and scores of other notable musicians.
His mother brought him to the U.S. soon after he was born in 1923. As a child, he lived in Alabama and New Orleans. He once said "music got into me" in cotton fields where he heard workers singing.
His mother, who gave birth to him when she was 12, bought him a harmonica when he was 4. Later, he took a liking to the Grand Ole Opry on the radio and to Jimmy Rogers tunes. The guitar appealed to him. He once strung wire between nails on a porch and, with a bottle, played the porch like a slide guitar. He met up with Hooker at a Detroit house party in the 1940s. Kirkland was then working days on a Ford assembly line and honing his guitar-playing craft at night.
After Kirkland came to Macon, first in 1949 while touring with Hooker, he met promoter Clint Brantley, who would help launch the careers of Little Richard and James Brown.
Kirkland's first single, "Done Somebody Wrong," in 1955, was later recorded by the Allman Brothers Band. Kirkland also backed up Otis Redding and, in 1967, scored a hit with the song "The Hawg."
Former WIBB radio DJ Robert "Mighty Rock" Roberts, who'd known Kirkland since the 1970s, recalled Monday how the blues man "could play the guitar with his tongue."
"Oh, man, he was awesome," Roberts said.
Hamp Swain, another former Macon radio voice, remembered seeing Kirkland perform in Florida once and how Kirkland "jumped out of the balcony all the way down to the main floor with his guitar and just kept playing. Never stopped."
In 1987, Kirkland was nominated for a W.C. Handy Award for best contemporary male blues artist, among such nominees as Robert Cray, Albert Collins and B.B. King. In recent years, Kirkland toured Europe.
"I know it sounds like the man has lived a long life, but he had so much left to give," Langdon, his manager, said. "Eddie's music was innovative. He was always looking to the future with his sound. ... He used his music to bridge a gap between people, between colors. Eddie's been around since 1923, just think about it. It's a long time. That man has seen a lot."
Langdon added, "Eddie would play any and every job. And he loved that part of it. He never wanted to be big."
Kirkland most recently recorded on the group Foghat's album "Last Train Home." He linked up with Foghat at a New York blues festival in 1977 and struck up a lasting friendship with its members. His most current solo album, "Booty Blues," was released about five years ago.
Foghat drummer Roger Earl, speaking by telephone from California on Monday, called Kirkland "a living legend."
"What made him a great blues man in my eyes was that he told stories, he sang stories. ... He was very warm, certainly with us anyway. He was a very rare breed. He was born for the road," Earl said.
"His stage performance was just mesmerizing. ... He was a ferocious guitar player. He could play like really mellow, bluesy with a kind of jazz thing to it. But when the mood took him, he was absolutely ferocious with his playing."
Linda Arcello-Earl, Foghat's manager who briefly managed Kirkland in the early 1980s, recalled videotaping a recording session with Kirkland at the group's Florida studio last year.
"He looked at the camera and he said, 'I'm old and I'm broke, but I'm happy,'" Arcello-Earl said. "What was really a shame is that Eddie, for all his talent and everything, wasn't able to sell more or get the financial compensation. ... He still had to drive around and sleep in his car at 87 years old. That kind of blew our mind, that somebody that talented, who has been around that long, didn't get what he really should have gotten all these years."
Kirkland, though, seemed long at peace with his work and its rewards.
In 1989, he told The Telegraph, "I don't want to get rich. I just want to play my music for the people."
He was 65 then and when asked about retirement, he replied, "Retire?"
Then he pointed toward the sky and said, "Only one man's going to retire me."
Weep, weep...
Cry a river of tears for the Lord has called the road warrior home. 8:30 am, Feburary 27th 2011 in Tampa, Florida. Arrangements to be announced.

August 40th Anniversary Issue of Living Blues

Eddie Kirkland interviewed in the August, 40th Anniversary issue of Living Blues : "I will always love the guitar as long as I'm alive, the Blues is my heart."
- Eddie Kirkland
Motor City Zooms Into Town for a Visit - August 1st, 2010

The program started with Eddie Kirkland, a bluesman born in Jamaica in 1923 and raised in Alabama before settling in Detroit. Playing solo electric guitar, he heartily set out the day's recurring subjects, lust and love gone bad. His shuffles and boogies had lean, steely syncopations, and his lead-guitar lines presaged Detroit music in his wake: distorted and jabbing against the beat.
By
JON PARELES
Published: August 1, 2010
Foghat featuring Eddie Kirkland:

Foghat's newest CD, Last Train Home, rocks those blues right out of your shoes! And who better to guest on their CD but the rockin' blues man himself, Eddie Kirkland. The band is brilliant to include this legendary authentic blues voice and guitar to their astounding backing. This is Kirkland the way he should be heard!
- Hedy Langdon
EDDIE KIRKLAND HAS RECENTLY BEEN PRESENTED WITH THE FOLLOWING AWARDS

DOUGLAS THEATRE PIONEER AWARD - FEBRUARY 5, 2010
PROCLAMATION AWARD BY THE CITY OF MACON
GEORGIA MUSIC LEGEND 2010 AWARD
GEORGIA LEGACY FOUNDATION BLUES AWARD - APRIL 24, 2010

Booty Blues: Latest Album
Here is an album that is a collaboration of talent, creativity, and dedication! For all those fans who have heard Kirkland perform such songs as "Make Love to Your Brain" and "Big TV Screen" on stage, here is the opportunity to hear them in your own space. Twelve never before recorded tracks are now set down skillfully through an act of sheer belief that Kirkland's Blues must be heard. Chris McDermott, who toured with Kirkland in the 80's dedicated his time, music, and studio to the recording. McDermott says, "I hope we have at least captured some of Kirkland's spirit and fearless creativity."
EK is connected to the well spring! Listen and Learn! Kirkland's management, Hedda Records, released the sound disc.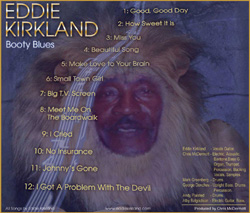 Tracks include:
1. Good, Good, Day
1. Beautiful Song for Beautiful Woman
3. How Sweet It Is
4. Miss You
5. Make Love to Your Brain
6. Small Town Girl
7. Big TV Screen
8. Meet Me On the Boardwalk
9. I Cried
10. No Insurance
11. Johnny's Gone
12. I Got a Problem with the Devil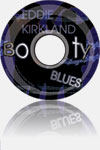 | | |
| --- | --- |
| Artist: | Eddie Kirkland |
| Format: | CD |
| Genre: | Blues |
| Release Date: | May, 2005 |
| Record Label: | Hedda Records |
| Condition: | New & Sealed |
Ordering:
You can listen to the entire album & Order it at CDbaby.com. Just $12.97!
Questions or comments?
Email: hedy.langdon@gmail.com - Please place Booty Blues in subject line.

Take a look as Kirkland plays Legends and Famous Dave's in Minnesota: Ray Stiles Blues On Stage Review